Motivation or Manipulation?
By Karl Newman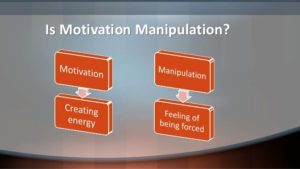 Whether you're a sports fan or not, there are many valuable leadership lessons to be learned in the bright lights of professional sports.
The NBA finals are in progress and the outcome is still uncertain.  Like today's Golden State Warriors, the Los Angeles Lakers in the Magic Johnson era were a winning machine.  The team's coach, Pat Riley, rightly gained a reputation as a master motivator.  During his 9 years with the Lakers, the team won an astounding 73 percent of their games and 4 NBA Championships.
Still at the peak of their performance, the team earned the best record in the league in the 1989-90 season – winning 63 games (77%) – the third best winning percentage in Lakers history
AND Pat Riley was forced out as the coach.  Pat Riley was fired!
What happened?  Winning coaches just don't get fired. Doesn't happen. Why would it?  Yet Riley's best player, Magic Johnson, was said to have led the players' demand for Riley's ouster.
Player comments in the press at the time said they had grown tired of Riley's over the top "motivational tactics." They felt they were being manipulated. And when motivation became manipulation, the coach couldn't empower the team and lost their buy-in. The players wanted a better environment and demanded that the owner fire Riley. And he did.
Winning games wasn't enough. They were sick of being manipulated. They'd had it.
The same is true in all leadership environments – business, education, sports, non-profits – when manipulation replaces motivation, the leader can't empower the team and loses buy-in. When that happens the leader has to go.
As leaders, we have to continually check our own motives to avoid our motivation turning into manipulation. The key is our motives.  Are we leading for power, pay, perks, and an executive parking space?  Are our decisions focused on building our own reputations?
Or are we leading to serve, to grow the enterprise? Are we leading to help the team succeed?
If our motives are right, manipulation isn't an option. When our motives are right, we can motivate, empower and earn buy-in.
And that's when the real winning starts.
Your LEAD Leaders Network faculty member is Karl Newman. Karl is an executive leader who has developed effective solutions to business and organizational challenges for more than 25 years. As President & CEO of several successful organizations, he has real-world experience doing what he teaches. He will help you and your team build on strengths and overcome obstacles to get results.